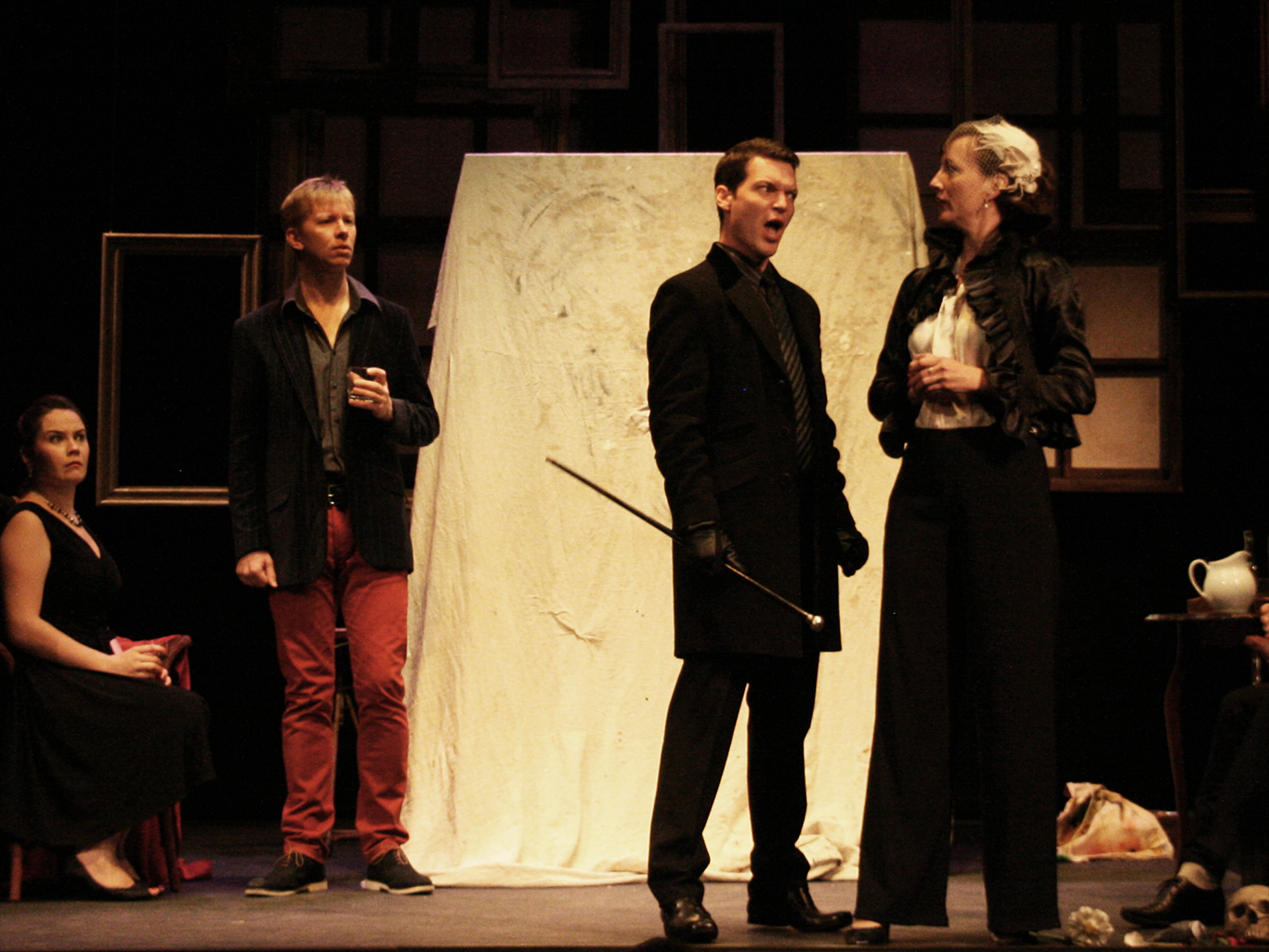 Madame X
2014
Words

Anthony Peter and Tim Benjamin

Composer / Director

Tim Benjamin

Designer

Lara Booth

Music Director

Antony Brannick
A brilliant yet impoverished artist is caught between jealous and wealthy rivals and his crooked agent — defended only by his beautiful, vulnerable fiancée and muse...
Masetto and Zerlina — a young immigrant couple — are impoverished, cold, and starving. Masetto, a brilliant portrait artist, is being ripped off by his unscrupulous agent Botney, and circling art collectors will not take "no" for an answer.
"A gun and a nod and a bag at a broken window suffice..."
Shivering in a shabby loft, struggling to make ends meet, and exploited by the wealthy and powerful collectors Lady Brannoch and Mr Wilmore, Masetto lives for his art, protected only by his muse and love, Zerlina. Their plight becomes increasingly perilous, desperate, and deadly, until at last: revenge.
Madame X is inspired by the Italian operas of Handel and Mozart, and by Jacobean revenge drama. This dark, passionate and obsessive tale is peppered with black humour and explores the potent combination of money and power in the world of art.
"Exquisite ... inherently melancholy and ultimately soul-bearing"
Now As I Write
"Shining with a refreshing energy, creating a vibrant atmosphere ... beautifully composed with many delicious flavours and shades" A Younger Theatre
The words of Madame X have a distinctive style. Two characters in particular stand out: Masetto and Botney. Masetto, the impoverished but dedicated artist, can only communicate through the medium of art; this is reflected in the words, as Masetto only ever speaks (sometimes cryptically) by using the titles of famous paintings.
By contrast, Botney is shallow and money-grubbing - and in an effort to give his words some weight, he speaks constantly through aphorisms and idioms.
from Act 2, Scene 2:
BOTNEY:
Good morning Masetto! A Sunday well-spent brings a week of content.
MASETTO:
[jumping to his feet, angrily] The Fortune Teller! Tooth Puller!
BOTNEY:
[referring to the street outside] Zerlina … a little spot of trouble … a tragic loss … may I offer my condolences?
BOTNEY:
Never say die! Well, perhaps in this case, but every cloud has a silver lining Masetto, remember that. Every why has a wherefore, and every man has his price. Isn't that right Masetto?
MASETTO:
Abuse Of Power Comes As No Surprise. Portrait of the Merchant—
BOTNEY:
I heard about your sordid arrangement, I'm sure he left her alive and well after he had his fun. Diseases of the soul are more dangerous than those of the body, Masetto! He who plays with fire will be burnt.
MASETTO:
The Bride Stripped Bare By Her Bachelors, Even…
However, matters come to a head, and Masetto is unable to hold in his emotions any longer: in an outpouring of grief, for once, his mask slips and his words come from an anonymous 16th century lyric: Come again, sweet love... (performed below by Tom Morss)
"Tim Benjamin refreshingly provided an opera that succeeds in sustaining interest over nearly two hours ... The fluent, well-crafted score offers some striking moments"
Opera
"If spending hours glued to the stage in wonder is an important attribute for a production to have, then this has it ... I have fallen in love several times throughout the last few hours of my life and have experienced a range of emotion. I'm not sure I will ever get over this production, nor do I want to. A few hours of performance, but a whole many more of wonder."
Weekend Notes
"Very modern relevance and subtle humour ... emotively sung, intelligently presented in English and with an undoubtedly talented ensemble ... a satirical gaze upon the perpetual pennilessness of the artist"
The Upcoming
"[Marc Callahan's Mr Wilmore had] dangerous charisma both vocally and physically ... [Taylor Wilson's Lady Brannoch was] all hauteur and thrilling low notes ... Benjamin directs the opera himself with considerable theatrical flair"
The Guardian
Violin / Leader

Charlotte Dowding

Violin

Clemence Hazael-Massieux

Viola

Stephanie Gordon

Cello

Alistair Howes

Flute

Lynda Robertson

Clarinet

Rachael Gibbon

Harpsichord, Repetiteur

Jenny Sheldon

Stage Manager

Anjali Vyas-Brannick

Technical Manager & Lights

James Claxton

Construction

Mark Fielden

Production Assistant

Shannon Saunders

Design Assistant

Lucy Clayton

Design Assistant

Claire Lilley
Performances
Hippodrome, Todmorden

21st August 2014

Square Chapel, Halifax

22nd-23rd August 2014

Arcola Theatre, London

25th-27th August 2014

RNCM Opera Theatre, Manchester

25th September 2014