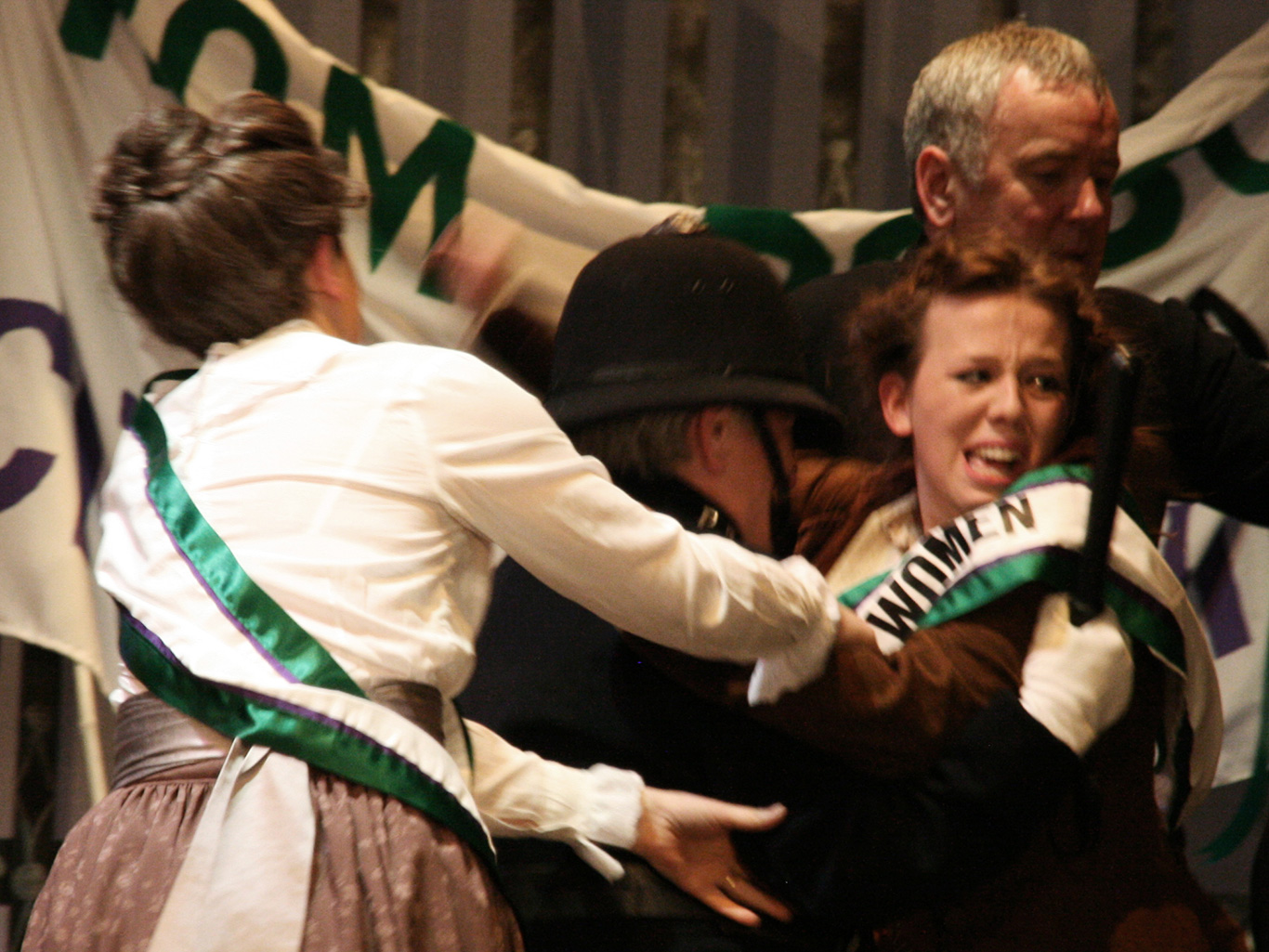 Emily
2013
Words

Anthony Peter and Tim Benjamin

Composer / Director

Tim Benjamin

Designer

Lara Booth

Music Director

Antony Brannick
"Concerning the Suffragette, Emily Wilding Davison, who died in June 1913 while protesting at Epsom, under the hoofs of the King's horse..."
Told almost entirely through painstakingly-researched archive material including newspaper articles, Hansard, and private letters, Emilytells the harrowing story of Emily Davison's particular dedication and unique sacrifice to the Suffragette cause.
Alongside a cast of brilliant young professional singers, Radius Opera's production Emily transformed volunteer amateur singers into an army of Suffragettes, singing as the opera's chorus, and memorably taking on their fellow volunteer Policemen in a dramatic on-stage riot.
"No surrender..."
The opera begins with one of the consequences of Emily Davison's sacrifice and the Suffragette movement, the vote on the Representation Of The People Act, 1918, which finally emancipated women.
Emily then travels back in time, to show some of the protests in which Emily Davison took part, beginning with the occupation of a broom cupboard in the House of Commons on the night of the Census, and her deliberate arrest: meaning that a woman would be forever recorded dwelling in the House on that night.
Following a harrowing scene of force-feeding (juxtaposed with a dialogue between establishment figures - shocking, today), the first Act comes to a close with a re-enactment of the "Black Friday" riots outside Parliament, in which numerous Suffragettes were brutalised by the Police, apparently under the orders of the Home Secretary, Winston Churchill.
Act 2 begins with an autopsy and dismemberment of Emily Davison's body, carried out by a Doctor who then reappears for the bulk of Act 2, which takes place at the Epsom Derby, and provides an account of everyday life in 1913, and common views of women in general and the Suffragettes in particular. Constructed in large part from newspaper columns and adverts, the Doctor sells "Fat Cure", aided by an attractive model. Of course, the main excitement is the race itself, and the tragic events which unfolded therein.
Finally, we see Emily's body lying in a hospital bed, and after hearing some of the hate-mail which was sent to her there, we hear the moving last letter written to her by her mother - a letter which Emily, then in a coma, never saw.
The opera concludes, movingly and fittingly, with a General Election, in which both men and women cast their votes - accompanied by the ghost of Emily, who sings the words of a short poem by Davison herself.
"It brought the house down ... a tribute to the composer and the utterly convincing singers"
Seen and Heard
Volunteer Army
One of the unique aspects of Radius Opera's Emily production was the presence of a small army of volunteer amateurs, singing and acting alongside the professional cast of soloists. Deserving a special mention, they were:
Jo Gerrard orderly, prison wardress, Suffragette
Emma Stafford orderly, prison wardress, Suffragette
Lucy Anderson race-goer, Suffragette
Valerie Dunlop race-goer, Suffragette
Frances M. Durning race-goer, Policeman
Richard Holley hawker, policeman
Maureen Ludlam race-goer, Suffragette
Darren Midgley race-goer, Policeman
Dawn-Marie Nicholls race-goer, Suffragette
Janet Peter race-goer, Suffragette
Barbara Pomfret race-goer, Suffragette
Niall Roche race-goer, Policeman
Sheila Urquhart race-goer, Suffragette
Sam Whittaker race-goer, Suffragette
"A gorgeous crescendo and a powerful epilogue ... They have created quite a feat"
Northern Soul
"An enchanting visual spectacle, with incredible voices and haunting, hypnotic music ... it even managed to get me to rethink opera"
Todmorden News
Performers
Marc Callahan

Marc Callahan, bass-baritone, trained at Oberlin Conservatory of Music, Cincinnati Conservatory of Music, the Ecole Normale de Musique, and the Scola Cantorum. He was winner of the Prix Lili Boulanger at the Concours International d'Interprétation de la Mélodie Française, and apprenticed with the Central City Opera (where he was awarded the Studio Artist Award), Des Moines Metro Opera, Sarasota Opera, Santa Fe Opera, Britten-Pears Academy and the Centre National d'Insertion Professionelle des Artistes Lyriques.

Marc Callahan's performance career has taken him around the world, singing at opera houses such as: The Royal Opera House, Santa Fe Opera, Théâtre des Champs Elysées, Théâtre du Capitole, Opéra National de Lyon, Opéra de Montpellier, Opéra Comique, Théâtre Royale de Versailles, Opéra de Marseille, Central City Opera, Dayton Opera, the Ohio Light Opera and Opera North (UK), among others.

As an opera director, Dr. Callahan has received critical acclaim for his production of Jean-Philippe Rameau's Les Indes Galantes, and has also assisted on Martin Duncan's productions at the Royal Opera House, the Aldeburgh Festival and the Holland Festival.

"The cast [of Madame X] gave consistently strong performances ... Callahan providing wickedly glamorous tone"
Opera Magazine

Meinir Wyn Roberts

A Woman

Sebastian Charlesworth

The Judge

Christopher Jacklin

The Politician

James Claxton

The Reporter
Violin 1, leader

Joy Hunter

Violin 2

Jonathan Whitehead

Viola

Robin Pennie

Violoncello

David Leys

Contrabass

Anne Bulman

Flute

Lynda Robertson

Clarinet

Rachael Gibbon

Bass clarinet

Peter Rogers

Cornet

Matthew Murray

Tenor horn

Richard Sutcliffe

Harp

Maxine Molin Rose

Piano

Jenny Sheldon

Percussion

Rhianon A. Harding

Stage manager

David Winslow

Construction

Mark Fielden

Assistant design engineer

Peter Uren

Deputy stage manager

Anjali Vyas-Brannick

ASM flies

Aysa Goldthorpe

House manager

Carolyn Hall

Lighting

Tom Sutcliffe

Wardrobe supervisor

Sarah Hoggatt

Stage team

Dave Heaton, Dave Badrick, James Greenwood

Wardrobe assistants

Natasha Broxton, Katie Crooks, Paulina Ruhanin, Chloe Winn

Props supervisors

Sasha Mattock, Nathan Mattock
Performances
RNCM Studio Theatre, Manchester

March 2012 (Prologue and Scene 1 only)

Hippodrome, Todmorden

4th–6th July 2013