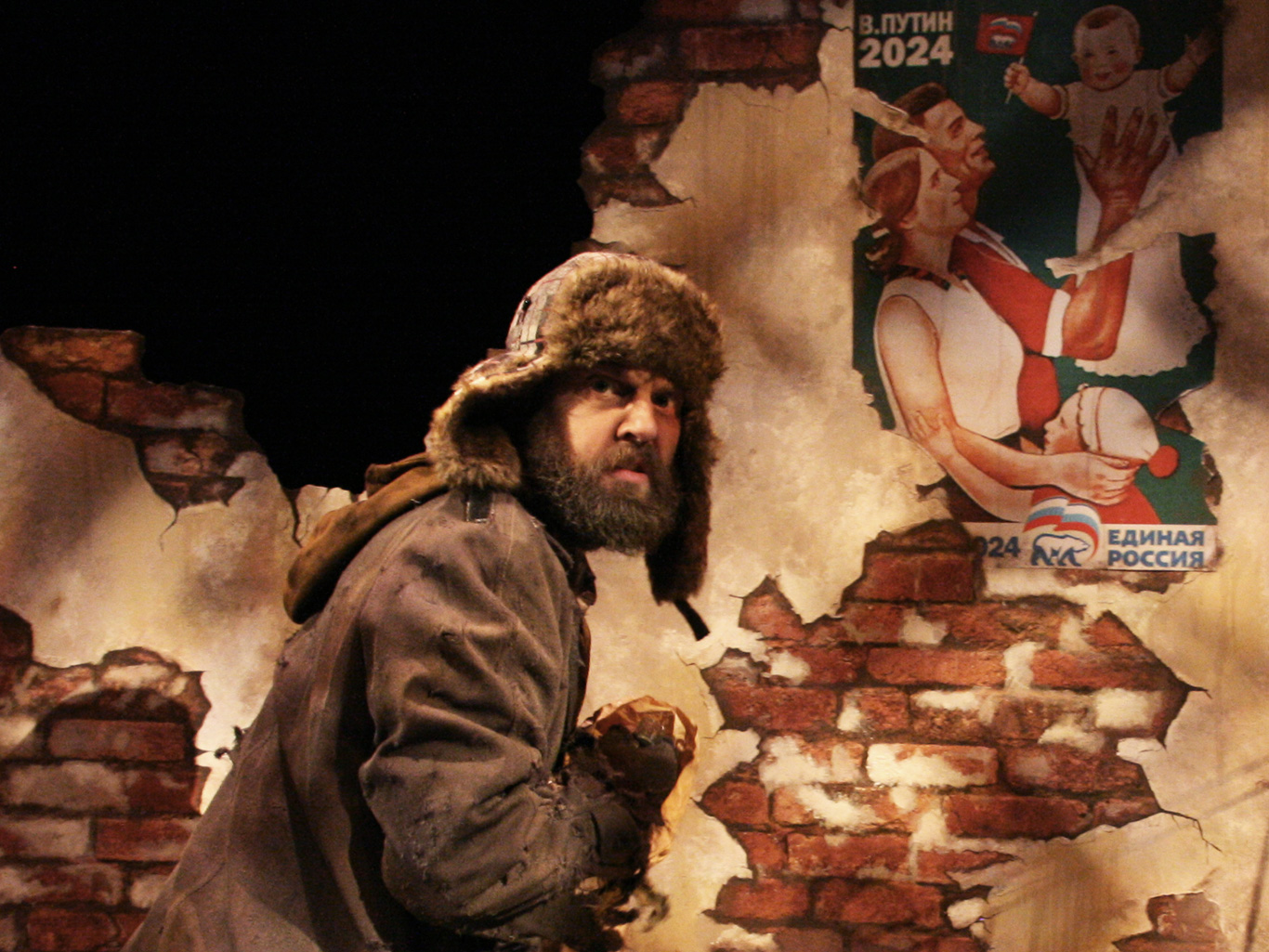 Rest In Peace
Life Stories: 2015, 2016
Words

Anton Chekhov

(adapted and translated by Tim Benjamin)

Composer / Director

Tim Benjamin

Designer

Amy Westwood

Music Director

Antony Brannick

Ezdeyev

James Fisher
Moscow, 2020: An old man wakes amid the filth and detritus of early 21st century consumerism.
Who is he? Why is he sleeping here? What causes the fever that plagues his mind?
His last day is upon him.
Before the final judgement we hear his tale, told through the questions and exclamations of his past, seared into his mind as his life unwinds.
Rest In Peace, or simply RIP is a contemporary adaptation of Anton Chekhov's Жизнь в Вопросах и Восклицаниях ("Life through questions and exclamations"), a fascinating short story cunningly constructed entirely from snippets of speech from the protagonist's life, from birth to death. Whereas Chekhov does not specify either the protagonist's name or present situation, we have chosen to set the short story as the final moments of an old homeless man, EZDEYEV, as he reflects upon his life. These reflections - the clipped dialogue from Chekhov - gradually reveal to us how this man has arrived here.
The drama (in English) is presented in a modern re-invention of Brechtian opera-theatre: both audience and accompanying musicians are vigorously encouraged to join in by the boisterous, comic, and tragic Ezdeyev. Benjamin's music – requiring great flexibility from the singer – blends the tuneful influences of Weill and Eisler with sounds reminiscent of Shostakovich and Weinberg.
"I was absolutely gripped ... the show changed my expectations of opera. Impressive, impeccable" Goole Times
"A masterclass ... twice over. If Harold Pinter had ever written an opera, this would surely be it" Bachtrack
RIP was presented alongside Silent Jack in LIFE STORIES, and premiered in Manchester, on 1st July 2015 before embarking on a tour of the north-west, taking in Preston, Halifax, Salford, Goole, and Todmorden, followed by a run of performances at London's prestigious festival of contemporary opera: Tête-à-Tête: The Opera Festival. LIFE STORIES toured again in 2016, and also visited the studio, resulting in Radius's second commercial recording.
"Life Stories is the evening for you. A pithy, prescient two-parter, Life Stories bounces one tale off another and leaves us asking for more." Manchester Salon
"...a truly remarkable performance that is nearly unheard of within smaller opera companies and festivals..."
Musically Notable
"A joy from start to finish"Operissima
"By using these unusual techniques to tell Ezdeyev's story of inevitable and characteristically Russian tragedy, we encourage the audience to think about upon the series of life-events leading to the plight of not only this, but every homeless person"
Tim Benjamin, composer of Rest In Peace
Performers
James Fisher

Ezdeyev (Bass)

James Fisher

James Fisher, bass, is studying at the RNCM with Peter Wilson funded by the D'Oyly Carte and has been very generously supported by the John Connell Award. James studied science at University College London and was a member of ENO's OperaWorks.

Opera engagements include Schwarz Die Meistersinger final act (The Hallé and Sir Mark Elder), Pistol Falstaff (Iford Festival), Dottore La Traviata (Kuwait), Theseus A Midsummer Night's Dream (Opéra de Baugé), Pietro Simon Boccanegra (Valladolid), Seneca The Coronation of Poppea (Rydale, Grimeborn and Lammermuir Festivals), Sarastro The Magic Flute (Opera Venture Tour), Antino Il ritorno d'Ulisse in patria and Barabashkin Paradise Moscow (RNCM). Plans include Bottom A Midsummer Night's Dream (RNCM) and Basilio The Barber of Seville (Mananan Festival).
Violin / Leader

Charlotte Dowding

Cello

Alistair Howes / Chris Terrapin

Fortepiano, Repetiteur

Simon Passmore

Percussion

Chris Brannick

Flutes, Piccolo

Lynda Robertson

Costume Maker

Alexandra Ware

Movement Coach

Bethan Rhys-Wiliam

Lighting Designer

Tom Sutcliffe

Stage Manager

Verity Sturdy

Producer

Jenny Sheldon
Performances
RNCM, Manchester

1st July 2015

The Continental, Preston

2nd July 2015

Square Chapel, Halifax

3rd July 2015

Hippodrome, Todmorden

4th July 2015

Tête-à-Tête: The Opera Festival, The Place, London

21st-22nd July 2015

Salford Arts Theatre, Salford

5th February 2016

The Civic, Barnsley

6th February 2016

Junction, Goole

20th February 2016

Little Theatre, Hebden Bridge

4th March 2016
Audience Survey
Did you attend Life Stories (Rest In Peace)?
If so, we would be very grateful if you could take a few moments to complete our Audience Survey!
Audience Survey form courtesy of our friends at Fillaform - we are happy to recommend their forms, they're great!