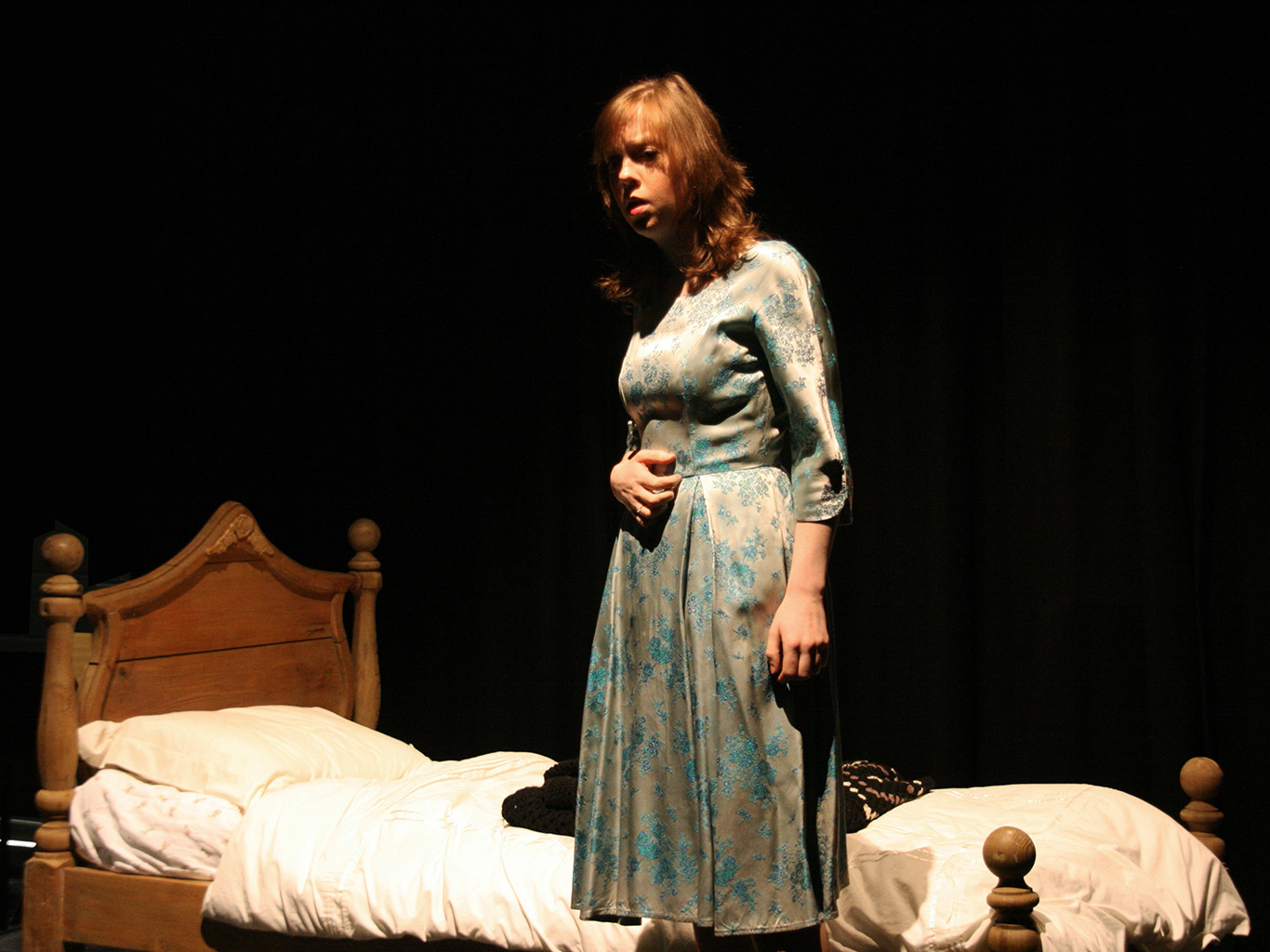 Mrs Lazarus
2009, 2012
Words

Carol Ann Duffy

Composer

Tim Benjamin

Director (2009)

Lewis Reynolds

Director and designer (2012)

Katherine Wilde
A woman's husband dies.
She gradually forgets him; but just she feels ready to love again...
He returns, zombie-like, from the dead, to haunt her and taunt her.
"He lived..."
Taking place in the mind of a grieving woman, and dramatised for this one-act opera, Carol Ann Duffy's Mrs Lazarus vividly recounts the grieving process.
A woman's husband gradually fades from her memory, and we are taken through the stages of grief: first, a visceral reaction (howling, shrieking); then the practical matter of dealing with his possessions; and finally the physical evidence fades (his hair, his scent), until all that is left is the cold, hard "zero" of her wedding ring. So far, this is told in the past tense - a sequence of memories.
But then the tense shifts to the present. The woman, faithful "for as long as it took", is now ready to move on to a new lover. The images are of fresh air, night, and a hare "thumping" from a hedge: suggestive, delicately, of a new coupling. As soon as this happens, all too swiftly the memory of her husband (not only, but also the mother-in-law and her "crazy song"!) comes roaring back to catch her in flagrante delicto, to fill her with guilt and shame.
The connection to the Biblical Lazarus (risen from the dead after four days) is a reflection that the story is undoubtedly universal: rather than Jesus performing miracles, our own psyches will bring back the dead at the least expected times.
First programmed by Radius alongside Berg's Piano Sonata (1908) and Schoenberg's Chamber Symphony (1906), this intense one act opera is rich with the Expressionism of 1900s Vienna, bringing to mind both the music and subject of Schoenberg's Erwartung (1909).
"Radius was on top form ... by turns exuberantly eloquent and eloquently exuberant. Mrs Lazarus certainly deserves to rise again"
Classical Music
Review: Musical Opinion
Tim Benjamin's Radius ensemble comprises some of Britains most decorated young new music performers, and since its début in 2007 the group has become known for its polished recitals of contemporary and 20th-century repertoire. For their latest Purcell Room appearance, Radius flanked a major new piece by Benjamin, Mrs Lazarus, with early works by Berg and Schoenberg, drawing together old and new incarnations of expressionism.
Mrs Lazarus is a setting of Carol Ann Duffy's poem, the story of a widow haunted by her dead husband as she seeks solace with a new lover. Benjamin is making a speciality of semi-staged music theatre works, and Mrs Lazarus - directed by Lewis Reynolds - was a particularly successful example. The staging was extremely light, with piano, violin, cello, flute and clarinet placed in a square around the soprano, Danae Eleni, who had a license to move as she wished. I was especially struck by the instrumental prologue, which seemed to encage the vocalist before she had even had a chance to sing. Some of the coloristic effects recalled horror movie soundtracks, and the overall impression remained suitably spooky. At the crucial point where the poem shifts from past to present tense Benjamin's fluid writing locked into tense, even phrases, like becoming suddenly aware of ones own breath.
— Tim Rutherford-Johnson / Musical Opinion
Review: Classical Music
Radius was on top form for its Purcell Room outing last October, by turns exuberantly eloquent and eloquently exuberant ... their world premiere reading of Benjamin's Mrs Lazarus spoke volumes for the combined imaginative powers of composer and performers, the former responding with carefully calculated restraint in his setting of Carol Ann Duffy's eponymous poem.
Soprano Danae Eleni, subtle in her shading of words and always alive to the poet's song of mourning and memory, revealed the rich theatrical component of Benjamin's score as an ensemble player, holding the stage persuasively as soloist without parting from her colleagues in the band. Mrs Lazarus certainly deserves to rise again.
— Classical Music
Performers
Danae Eleni

Danae Eleni is a lyric soprano, who enjoys performing a range of repertoire, from Baroque, through Classical and Romantic, to Jazz and Music Theatre and Contemporary Classical Collaborations. Equally at home on the operatic stage and the recital platform, Danae has most recently performed in Singapore, London, Berlin, Oxford and Bahrain.

A dedicated ambassador for contemporary repertoire, Danae often collaborates with composers and directors to devise new pieces of Music and Theatre. She is in the process of recording an album dedicated to works which are unaccompanied or accompanied by solo non-keyboard instrument.

Danae is delighted to work with fellow performers of all ages to encourage new ways of approaching singing. Danae's Science and Maths background inspires her to constantly search for links between Science/Maths and Music, developing links with Professors in both fields, and occasionally coaching Science and Maths also. Danae also enjoys recommending colleagues to potential collaborators for the benefit of Art and Science.

Rebecca Lea

Based in London, Rebecca enjoys a busy and versatile career, performing across the UK and abroad with some of the most exciting conductors and ensembles.

As a soloist she has appeared with the Royal Liverpool Philharmonic Ensemble 10/10, Psappha, The Northern Sinfonia, Manchester Camerata and performed at the BBC Proms, Oxford Lieder Festival, The Wigmore Hall, The Royal Festival Hall, Cadogan Hall, The Purcell Room, King's Place, The Lake District, Salisbury, Buxton and Huddersfield Contemporary Music Festivals.

Rebecca is a member of the BBC Singers and also Exaudi, with whom she performs a diverse range of repertoire at venues across the UK and abroad. She also performs with Britten Sinfonia Voices, Stile Antico, The Choir of the Enlightenment, The Dunedin Consort and Oxford Baroque. She is also Artistic Director of the award-winning theatre company Re:Sound.

Rebecca grew up in Macclesfield, Cheshire and read Modern Languages at The Queen's College, Oxford, before going on to postgraduate study at the Royal Academy of Dramatic Art and the Royal Northern College of Music, completing an MMus with Distinction. She has been the grateful recipient of the Oxford Lieder Festival Scholarship, the RNCM Contemporary Music Prize and the Liverpool Opera Circle Bursary.
Flute / piccolo (2009 & 2012)

Jennifer George

Clarinet / bass clarinet (2009 & 2012)

Sarah Watts

Violin (2009)

Alexandra Wood

Violin (2012)

Catherine Pether

Cello (2009)

Oliver Coates

Cello (2012)

David McCann

Piano (2009)

John Reid

Piano (2012)

Jamie Thompson
Performances
Mrs Lazarus was co-produced in 2012 with Re:Sound for the New Music: North West festival that year.
Southbank Centre, London

21st October 2009

Studio Theatre, RNCM

9th March 2012